"Could you believe me if I said I'd been right out of the world—outside this world—last summer?" — Eustace, to Jill Pole

This article is Out of Universe: it covers a subject that does not exist in the world of Narnia. (See the WikiNarnia Format for more information.)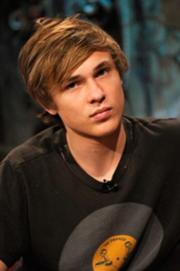 William Moseley
is a British actor who played
Peter Pevensie
in the Disney and Walden media films
The Chronicles of Narnia: The Lion, the Witch and the Wardrobe
,
Prince Caspian
and 20th Century Fox film,
The Voyage of the Dawn Treader
. Peter Pevensie was Moseley's first major film role.
Personal life and career
Moseley was born on April 27, 1987 in Sheepscombe, Gloucestershire, England in the Cotswolds, the son of Julie and Peter Moseley. He has two younger siblings: Daisy and Benjamin.
Moseley attended Sheepscombe Primary School from September 1991 to July 1998, and then continued his education at Marling Grammar School, Stroud. As a 7-year-old, he used to listen to the Chronicles of Narnia audio tapes. He read the books eight years later in preparation for his role as Peter Pevensie.
He had to repeat Upper Sixth because he had taken so much time off school while filming The Lion, the Witch and the Wardrobe. Casting director Pippa Hall was responsible for casting William as an extra when she was filling roles for Cider with Rosie (TV) back in 1998.
Seven years later, when casting for the film, she remembered him and recommended him for the role of Peter. From the first day of auditioning for the role of Peter Pevensie it took a further eighteen months before he officially won the role and was cast. He beat more than 3,000 other boys to the role of Peter.
He is close friends with Narnia co-stars Anna Popplewell, Georgie Henley, Skandar Keynes and Ben Barnes.
He will be starring in A Great Education with Emma Roberts as well as a movie about the sport parkour called "Run" costarring Kelsey Chow and will be filmed in 3D.
He will be starring in the CW drama, The Selection, and also as the main character, Andreas, in The Silent Mountain.
Filmography
1998
Cider With Rosie (extra)
Goodbye, Mr. Chips - Forrester
2005
The Chronicles of Narnia: Lion, The Witch and the Wardrobe - Peter Pevensie
2008
The Chronicles of Narnia: Prince Caspian - Peter Pevensie
2010
The Chronicles of Narnia: The Voyage of the Dawn Treader - Peter Pevensie (cameo)
2011
A Great Education - Charlie
Run - Daniel
2018
The Little Mermaid - Cam Harrison
External Links