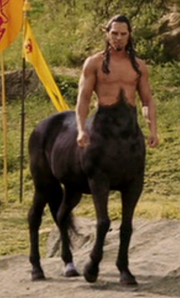 I've always had a love of mythical creatures, especially those from Greek myths! So my favourite creatures/beings are Centaurs and Minotaurs. I especially love Centaurs, in both Narnia and Harry Potter, and any other verse that has them. I think they're cool!
I like the character of Eustace Scrubb (yes, I know not all people like him, as he's such a brat, but I do). He's an interesting character to look into, and I feel a bit of a kinship with him. Like him; I was an only child, grew up in a family that was unlike many of our neighbours, sometimes bullied, and I'm sorry to say a bit of a spoiled jerk. I just hope that, also like Eustace, I've long since matured.
Reepicheep is also another favourite of mine because I just find him so awesome a character, especially in the movies! I know a lot of people don't like how the movies portray the characters, but I prefer Reep in the films. He's got a bit of comedy to him, yet still remains so noble. And in the VDT film, he's more of a teacher to Eustace than an enemy, which I find more enjoyable to watch.
I enjoy writing fics as well, and am currently making plans for my first two Narnia fics.
http://www.fanfiction.net/u/252186/Storyseeker
My favorite pages