"Could you believe me if I said I'd been right out of the world—outside this world—last summer?" — Eustace, to Jill Pole

This article is Out of Universe: it covers a subject that does not exist in the world of Narnia. (See the WikiNarnia Format for more information.)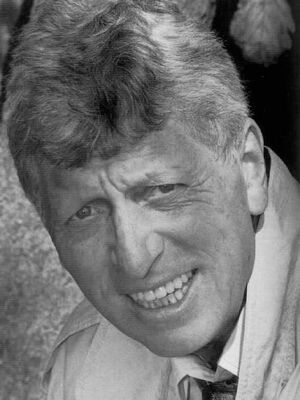 Tom Baker
(born January 20, 1934) was the actor who portrayed
Puddleglum
in the
BBC version of the Silver Chair
. His performance was met largely with approval and enjoyment by Narnia viewers. It has even been suggested by fans that he should return to that role or be cast in another part in the Walden productions of The Chronicles of Narnia.
Bio
Baker was born in Scotland Road, Liverpool, England. His mother, Mary Jane (née Fleming), was a cleaner, and his father, John Stewart Baker, was a Jewish/English sailor who was rarely at home. His parents were working class Liverpudlians. Baker left school at 15 to become a Roman Catholic monk, and remained in this lifestyle for six years, but left after losing his faith. He did his national service in the Royal Army Medical Corps, serving from 1955 until 1957. At the same time, he took up acting, first as a hobby but he turned professional towards the end of the 1960s.
Other Works
He played Rasputin in Nicholas and Alexandria (1971)
He was perhaps best known for playing the Fourth Doctor on Doctor Who.
Links
Community content is available under
CC-BY-SA
unless otherwise noted.