"Could you believe me if I said I'd been right out of the world—outside this world—last summer?" — Eustace, to Jill Pole

This article is Out of Universe: it covers a subject that does not exist in the world of Narnia. (See the WikiNarnia Format for more information.)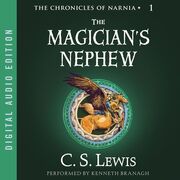 The Magician's Nephew was an unabridged audio book produced in 2001 by HarperAudio, a subsidiary of Harper Collins Publishers. It was read by two time Emmy Award-winning actor Sir Kenneth Branagh, better known for his role as Hercule Poirot in Murder on the Orient Express.
The total length is 3 hours and 57 minutes.
CD & Digital Release

HarperAudio originally released The Magician's Nephew in 2001 as a four-disk CD or cassette recording.
The reading was digitally released by Audible on 26th December, 2004. It is currently available for purchase in two-disk CD and mp3 formats.
Amazon Best Sellers Rank

According to the Amazon Best Sellers Ranking, Kenneth Branagh's reading of The Magician's Nephew is the #7 most popular audio book in the "Children's Classics" and "Fiction Classics for Children" categories.
It is the #1 most popular audio book in the "Religion for Children" category, and is the #725 most popular audio book of all time.
References
Community content is available under
CC-BY-SA
unless otherwise noted.