"Could you believe me if I said I'd been right out of the world—outside this world—last summer?" — Eustace, to Jill Pole

This article is Out of Universe: it covers a subject that does not exist in the world of Narnia. (See the WikiNarnia Format for more information.)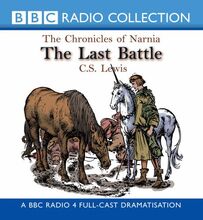 The Last Battle was was a full-cast radio drama produced in 1997 as part of the Tales of Narnia series. It was produced and directed by John Taylor and dramatized for radio by Brian Sibley.
Broadcast History
The Last Battle first aired in Britain on Sunday, March 2nd, 1997. Four 30 minute episodes were broadcast weekly by BBC Radio 4 from 2nd March, 1997 to 23rd March, 1997.
Cast
Producers
Sound
Peter Howell - Music, Sound Effects
(Elizabeth Parker did not contribute to The Last Battle.)
CD Release
BBC Worldwide originally released the radio drama to cassette in 1997. In 2000, the BBC released The Last Battle as a two-disk CD recording. It is also available for digital download from Audible.
Community content is available under
CC-BY-SA
unless otherwise noted.