"Could you believe me if I said I'd been right out of the world—outside this world—last summer?" — Eustace, to Jill Pole

This article is Out of Universe: it covers a subject that does not exist in the world of Narnia. (See the WikiNarnia Format for more information.)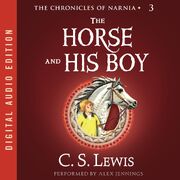 The Horse and His Boy was an unabridged audio book produced in 2002 by HarperAudio, a subsidiary of Harper Collins Publishers. It was read by three-time Olivier Award-winning actor Alex Jennings, better known for his role as Edward VIII in Netflix's The Crown series.
The total length is 4 hours and 41 minutes.
CD & Digital Release

HarperAudio originally released The Horse and His Boy in 2002 as a four-disk CD or cassette recording.
The reading was digitally released by Audible on 26th December, 2004. It is currently available for purchase in two-disk CD and mp3 formats.
Amazon Best Sellers Rank

According to the Amazon Best Sellers Ranking, Alex Jenning's reading of The Magician's Nephew is the #15 most popular audio book in the "Family Life Fiction for Children" and "Fiction Classics for Children" categories.
It is the #2 most popular audio book in the "Religion for Children" category, and is the #1,373 most popular audio book of all time.
References