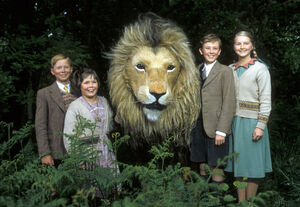 The Chronicles of Narnia is a made-for-television miniseries produced by the BBC. It aired from 13 November 1988 to 23 December 1990.
Cast
Ailsa Berk as Aslan & a dragon
Richard Henders as Prince Rilian
William Todd-Jones as Aslan & a centaur
Ronald Pickup as Aslan
Geoffrey Russell as King Caspian
Jean Marc Perret as Young Caspian
Nick Brimble as Giant Porter
Stephen Reynolds as Giant King
Lesley Nicol as Giant Queen
Patsy Byrne as Giant Nanny
Joe Hall as Sentry
Jack Purvis as Golg
Jefferey S. Perry as Tumnus
Henry Woolf as Dr. Cornelius
Awards
The series were nominated for a total of 14 awards, including a nomination for an Emmy in the category of "Outstanding Children's Program". The series won the BAFTA Award for "Best Video Lighting" (1988), and was nominated for "Best Children's Programme (Entertainment / Drama)" (1988, 1989 and 1990), "Best Video Lighting" (1989), "Best Make Up" (1988, 1989, 1990) and "Best Costume Design" (1988), "Best Video Cameraman" (1989, 1990).