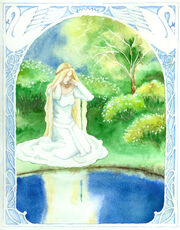 Queen Swanwhite was a queen of Narnia, known for her great beauty. Swanwhite was, according to Jewel the Unicorn, so beautiful that if her face were reflected in a pool the image of her face remained for a year and a day. Jewel the Unicorn also says that Swanwhite ruled before Jadis. There is some confusion as to her actual rule, however, the timeline provided by C.S. Lewis states that she ruled around the year 1502. This has led to speculation that there are actually "two" Swanwhites, a beautiful one who reigned before Jadis during the Age of Conquest and a namesake in the Dark Age who reigned around 1502. In the upcoming Broadway musical, she will be played by Taylor Louderman.
Narnia - The Musical Cast Lists
Swanwhite I
Swanwhite II
Community content is available under
CC-BY-SA
unless otherwise noted.