The Shuddering Wood was a large forest in Narnia, located near Miraz's castle.

It was the home and hiding place to many of the Narnians during the Telmarine Age.
The most notable Narnians that the wood was and remained home to were: -
Dryads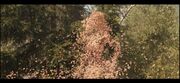 Asterius and many other Minotaurs.
...and many others.