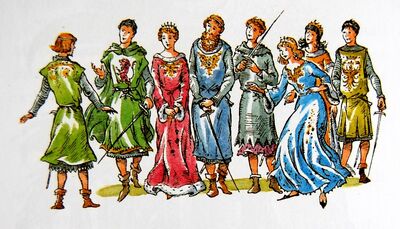 "And don't mention Narnia to anyone else unless you find they've had adventures of the same sort themselves. What's that? How will you know? Oh, you'll know all right. Odd things they say - even their looks - will let the secret out."
―Digory Kirke
The Seven Friends of Narnia were seven humans from Earth who at one time or another traveled to and aided Narnia.
The Seven Friends are:
Susan's exclusion
Despite travelling twice to Narnia, Susan Pevensie was not counted among the Seven Friends of Narnia, and thus did not enter Aslan's Country with them. It has been thought that she was no longer a friend of Narnia because she no longer believed in it, believing it to be no more than a mere game they played as children, and preferred acting like a grown-up, wearing make-up and such. That said, she was also not present at the train station when the accident occurred, and therefore simply didn't die at the same time as the others.
While Susan was not part of the seven, it was never said that she was excluded forever from Aslan's Country. C.S. Lewis himself said that Susan's story was not finished, indicating that he was likely considering writing a follow-up story with her Unfortunately, he died before being able to write what had become of Susan's life.
The Seven's final journey to Narnia
During The Last Battle on Narnia, the last king of Narnia, Tirian, appeared to the seven, while they were still on Earth, and implored them for aid. Shortly afterward, the seven were killed in an accident at a train station. Their deaths on Earth sent Eustace and Jill, the youngest two, one last time to Narnia and, when they completed their task, they traveled with the rest to Aslan's Country to live there for all eternity.