"Could you believe me if I said I'd been right out of the world—outside this world—last summer?" — Eustace, to Jill Pole

This article is Out of Universe: it covers a subject that does not exist in the world of Narnia. (See the WikiNarnia Format for more information.)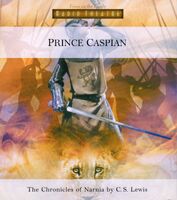 Prince Caspian was produced in 2000 as a Radio Theatre production by Focus on the Family, The C. S. Lewis Company Ltd. and Tyndale Entertainment. It featured a full cast, orchestral music, and an introduction by Douglas Gresham. It was dramatised and directed by Paul McCusker.
Broadcast History
On December 26th 2005, in Britain, BBC Radio broadcast the first four of the 'Chronicles' recordings back to back as complete, continuous performances. They were: The Magician's Nephew; The Lion, The Witch And The Wardrobe; The Horse and His Boy; and Prince Caspian. The remaining three Chronicles (The Voyage Of The Dawn Treader, The Silver Chair, and The Last Battle) were aired on BBC Radio in fifteen 50 minute episodes on consecutive weekdays from 22nd December 2006 to 10th January 2007.
Differences from the Book
Cast
Philip Glassborow - Casting Director
Producers
Dave Arnold - Producer
Kurt Bruner - Executive Producer
Sound
Tom Busteed - Sound Design
John Campbell - Music Composer
Tim Jacquette - Citrus Studios, Glendora, California
Voice Recording
Mark Drury - Voice Recording Engineer
Dave Arnold - Voice Recording Engineer
Voice Tracks recorded at The Soundhouse, Ltd., London
CD Release
Tyndale Entertainment released a three disc recording of the radio play in 2000.
Disc 1
1. Called Back to Narnia
2. The Ruins of Cair Paravel
3. Trumpkin the Dwarf
4. The Old Days
5. Danger to the Prince
6. Talking Beasts
Disc 2
1. The Council of Dancing Lawn
2. Blowing Queen Susan's Horn
3. More Than Meets the Eye
4. Oh Trees! Wake, Won't You?
5. The Fords of Beruna
6. What Lucy Saw
7. The Return of the Lion
Disc 3
1. Woods on the Move
2. Sorcery and Sudden Vengence
3. The High King in Command
4. THe Combat of Miraz and Peter
5. How All Were Very Busy
6. Reepicheep's Wounds
7. Aslan Makes a Door in the Air
8. Epilogue
Community content is available under
CC-BY-SA
unless otherwise noted.