"Could you believe me if I said I'd been right out of the world—outside this world—last summer?" — Eustace, to Jill Pole

This article is Out of Universe: it covers a subject that does not exist in the world of Narnia. (See the WikiNarnia Format for more information.)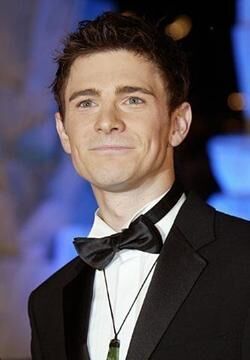 Mark Jared Finlay Wells is the actor who played the adult Edmund Pevensie in The Chronicles of Narnia: The Lion, the Witch and the Wardrobe (film) in 2005.
Born on September 14th 1980, in Auckland, New Zealand, he spent most of his childhood in the United States, the United Kingdom and Australia, before returning to New Zealand in 1992.
He is the son of a former RNZAF pilot, William John Wells II, and grandson of an RAF 'Dambuster,' William John Wells, who captained a Lancaster bomber in WWII. His grandfather trained at EFTS in South Africa, flew 32 missions over Germany, and was awarded the Distinguished Flying Cross (DFC) by the King. Mark was therefore particularly proud to wear a wings brevet in Paramount's 'Sky Captain and the World of Tomorrow'.
He has an older brother, Ivor, and two sisters, Rebecca and Bethany. His mother teaches elementary school in China.
He is 5 feet 10 inches tall (1.78 m).
In 1999, at only 18 years of age, he was offered a full scholarship to train at the Royal Academy of Dramatic Art (RADA) in London, and he has been based in the UK ever since. He graduated with Distinctive Honours in 2002.
Links
Community content is available under
CC-BY-SA
unless otherwise noted.