"Could you believe me if I said I'd been right out of the world—outside this world—last summer?" — Eustace, to Jill Pole

This article is Out of Universe: it covers a subject that does not exist in the world of Narnia. (See the WikiNarnia Format for more information.)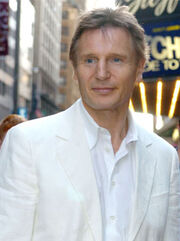 Liam Neeson was the voice of Aslan in the The Chronicles of Narnia (film series).
It remains unknown if he will reprise his role as Aslan's voice again, since the continuance of film series is at this point unknown. The next film in the series apparently involves a brand new franchise and cast, which means that it is unlikely that Neeson will return to the role of Aslan again.
Biography
William John "Liam" Neeson was born on the 7th of June 1952 to Katherine and Barnard Neeson, in Ireland.
His first film was Pilgrim's Progress, playing the part of Jesus Christ. Neeson later went on to star in many other films, including Schindler's List and in Star Wars Episode 1: The Phantom Menace as Qui-gon Jinn.
Filmography
1979-2012
The Dark Knight Rises (Cameo)
Unknown (Dr. Martin Harris)
Taken 2 (Bryan Mills)
The A-Team (Col. John "Hannibal" Smith)
Wrath of the Titans (Zeus)
The Chronicles of Narnia: The Voyage of the Dawn Treader (Aslan, voice)
Clash of the Titans (Zeus)
Ponyo (Fujimoto)
The Other Man
The Chronicles of Narnia: Prince Caspian (Aslan, voice)
Taken (Bryan Mills)
Seraphim Falls
The Chronicles of Narnia: The Lion, the Witch and the Wardrobe (Aslan, voice)
Breakfast on Pluto (Father Liam)
The Proposition
Batman Begins (Henri Ducard/Ra's al Ghul)
Kingdom of Heaven (Godfrey of Ibelin)
Kinsey
Love Actually
Gangs of New York
K-19: The Widowmaker (Mikhail Polenin)
Journey into Amazing Caves
Gun Shy
The Haunting
Star Wars: Episode I The Phantom Menace (Qui-Gon Jinn)
Les Misérables (Jean Valjean)
Michael Collins
Rob Roy (Robert Leroy MacGregor)
Nell
Schindler's List (Oskar Schindler)
Deception
Ruby Cairo
Deception
Husbands And Wives
Leap Of Faith
Shining Through
Under Suspicion
Crossing The Line
Darkman
The Big Man
Next of Kin
High Spirits
Satisfaction
Sweet as You Are
The Dead Pool
The Good Mother
A Prayer for the Dying
Duet for One
Suspect
Sworn to Silence
Lamb
The Mission
The Innocent
Ellis Island
The Bounty
Krull
Excalibur
Pilgrim's Progress
Links
Community content is available under
CC-BY-SA
unless otherwise noted.