"Could you believe me if I said I'd been right out of the world—outside this world—last summer?" — Eustace, to Jill Pole

This article is Out of Universe: it covers a subject that does not exist in the world of Narnia. (See the WikiNarnia Format for more information.)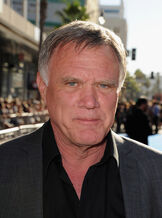 Joseph Eggleston
"Joe" Johnston III (born May 13, 1950 in Austin, Texas) is a well-known American film director, responsible for such films as
The Rocketeer
,
Hidalgo
,
Jurassic Park III
,
October Sky
,
Jumanji
, and
Captain America: The First Avenger
amongst others.
Personal life and career
Johnston was born in Austin, Texas, and attended California State University, Long Beach, and Pasadena's Art Center College of Design.
Much of the work at the beginning of Johnston's screen career combined design and special effects. He began his career as a concept artist and effects technician on the first Star Wars film, directed by George Lucas, and was art director on one of the effects teams for the sequel. His association with Lucas would later prove fruitful, when he became one of four to win an Academy Award for Best Visual Effects for Lucas and Steven Spielberg's film Raiders of the Lost Ark.
Johnston made his directorial debut in 1989 with hit comedy adventure Honey, I Shrunk the Kids, starring Rick Moranis. He followed it with comic-book adaptation The Rocketeer (1991). The film was a commercial failure, as was his next, the animated and live-action The Pagemaster.
Johnston's first project of the 2000s was the sequel Jurassic Park III, which made over US$300 million at the box office. Johnston followed it with western Hidalgo, starring Viggo Mortensen. Johnston then took a six-year directorial break before signing on at a month's notice to take over the 2010 remake of 1941 horror classic The Wolfman. Shot in England, the film starred Benicio del Toro and Anthony Hopkins.
In 2012 Johnston began directing thriller Not Safe for Work.
Filmography
The Rocketeer (1991)
Jumanji (1995)
October Sky (1999)
Jurassic Park III (2001)
Hidalgo (2004)
The Wolfman (2010)
Captain America: The First Avenger (2011)
Not Safe for Work (2014)
The Nutcracker and the Four Realms (2018)
Trivia
On April 26, 2017, Variety announced that Johnston had been hired to direct the fourth installment of The Chronicles of Narnia film series, The Silver Chair.
Gallery
Videos
Links