"I've come at last. She has kept me out for a long time, but I have got in at last. Aslan is on the move. The Witch's magic is weakening."
―Father Christmas (Chapter 10)
Father Christmas was the gift-bearing figure, known on both Earth and in the World of Narnia, who came to all the good creatures in Narnia the night before Christmas.
Long Winter
During the Long Winter, the White Witch's power made it so that Christmas never came in Narnia, by keeping Father Christmas out of the country.
The appearance of Father Christmas at the end of the Long Winter was one of the first signs that Aslan's power was at work in Narnia, and that the Witch's power was weakening.
"Come and see! This is a nasty knock for the Witch! It looks as if her power is already crumbling."
―Mr. Beaver (Chapter 10)
Before the Pevensie children and the Beavers first met Father Christmas, they heard his sleigh-bells and ran from him, assuming that he was the White Witch chasing them, since she and he both hung bells on their sleighs.
Appearance
Father Christmas was a huge man who wore a red robe (as red as hollyberries), with a hood and fur lining.
He had a long white beard that fell all over his chest, a round stomach, and had a cheery presence.
On Earth, he is described as being funny and jolly, but in Narnia the Pevensies didn't find him to be quite like that. All that was mentioned was that he was so big, so glad, and so real, that they all became still and solemn, but also glad at seeing him.
He rode a sleigh with large brown reindeer, which had bells hung on it.
Known Gifts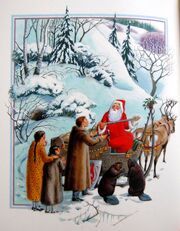 When Father Christmas returned to Narnia, it can be assumed that he had a lot of gifts for everyone, as things do pile up when you've been gone a hundred years, but only several individuals are known by name.
Below is the list of known gifts that he gave to those certain people at the end of the Long Winter: -

He-Beaver: A completed dam with a sluice-gate
Trivia
Despite a few differences, Father Christmas is obviously the Narnian version of Santa Claus. 'Father Christmas' is also the most common name that Santa Claus has in the UK, where C.S. Lewis lived.  The 2005 film adaptation avoids the issue of his name by him being unaddressed by either, with the producers confident that child audiences in Britain and North America respectively would recognize him regardless.