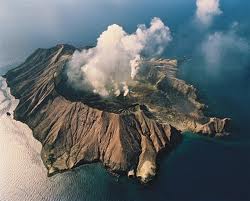 "The scene would have been pretty in a picture but was rather oppressive in real life. It was not a country that welcomes strangers."
―

Dragon Island was an island located far beyond the waters of The Lone Islands.
It was described as being a wild and green place, inhabited mostly by wild goats, and herds of wild swine, as well as a single dragon.
It was also where Lord Octesian died, and held the mystery of his demise.
History
The Seven lost Lords went there as one of the many islands they visited. One of the lords, Lord Octesian, died on the island, either having been turned into a dragon (after finding the Dragon treasure that was on the island) or killed by a dragon.
Years later, Caspian X and his friends discovered the island, when Caspian was on his voyage to the end of the world. Eustace, upon discovering the Dragon treasure, thus turned into a dragon. The crew of the Dawn Treader did not know what to do with him, until Aslan changed him back, returning him to a human once again. The crew of the Dawn Treader, once reunited with Eustace, sailed away from Dragon Island. Before they left, Caspian had the following inscription carved into a smooth cliff facing the bay, which they had used as a harbour for the Dawn Treader: -
DRAGON ISLAND
DISCOVERED BY CASPIAN X,
KING OF NARNIA, ETC.
IN THE FOURTH
YEAR OF HIS REIGN.
HERE, AS WE SUPPOSE, THE LORD OCTESIAN
HAD HIS DEATH.
Adaptations
In the Voyage of the Dawn Treader film, Dragon Island and Deathwater Island were one of the same. Also, the island was a volcanic wasteland, not green with animals, like how it was described in the book.
There was also no dragon living on the island at the time of the Dawn Treader's visit, with the exception of when Eustace was changed into one.
Lord Octesian's remains were also found on the island, so in the film it was determined that he had not been changed into a dragon, though how he died is still unknown.